Ranch blog
Sep 26, 2014 2014 Carson City Keuring
Our keuring was Wednesday, in Carson City, Nevada. It was great to have a local keuring this year. Results for our horses are: Champion Colt: Triston MFR Reserve Champion Colt: Vincent MFR Champion Filly: Teagan MFR Reserve Champion Filly: Vienna MFR Champion Mare: Wobke 1st premie Crown Mare: Wobke 1st premie ster Mare: Anisha 2nd premie ster Mare: Kahia MFR Ster Stallion: Krino Considered for approved stallion: Krino Champion of the Day: Woke Photos and videos to come!
May 06, 2014 Ruth giving our very pregnant Callie her nightly scratch
Mar 27, 2014 Troi is born to Tjitske
Mar 25, 2014 Teagan is born to She Fires
Mar 20, 2014 Thor is born to Cassie
Thor, our first foal and colt of 2014 is born to her recipient mom Cassie. Thor's biological dam is our mare Pocahantas and his sire is Doaitsen 420 Sport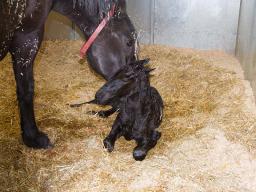 Mar 08, 2014 Ruth making funny faces with Surprise, almost one year old!
Nov 12, 2013 Between Horses and Humans Fund Raiser